SKO "Pre-Eminent Paramount Family Law Firm in Scotland" in Chambers HNW Guide 2021
22nd July 2021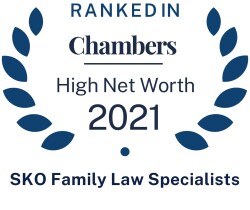 SKO are one of only two Scottish firms ranked in the Chambers and Partners High Net Worth Guide 2021, which has been launched today. Four Scottish solicitors are named, of whom three are with SKO. The Guide is independent and ranks lawyers on the basis of peer review, identifying the top practitioners and firms for international private wealth. Individual lawyers are ranked in their practice-area on the basis of their legal knowledge and experience, ability, effectiveness and client-service.
The Guide reports that SKO, "has an excellent reputation for advising on the Scottish aspects of large international family matters" and that "they really are a blue-chip offering."
Rachael Kelsey was described as "without doubt the best Scots family lawyer." with it being reported that a fellow lawyer said of her that: "She is a tour de force, she is incredibly able, charismatic and personable. She is a great lawyer and a pragmatist."
The breadth of Robert Gilmour's ability is recognised, with the Guide reporting that "One of Gilmour's huge strengths is his ability to analyse and break down complex issues into logical components." It reports that "A market source enthuses: "He is brilliant, he is the leading person in the country on surrogacy. He is also brilliant with difficult heavyweight money cases.""
Senior Associate, John West, who trained with SKO, is reported to be, "unflappable, he is vastly wise beyond his years of experience and he's technically absolutely brilliant.".