Rachael Kelsey speaks at World Jurist Association Congress in New York
20th July 2023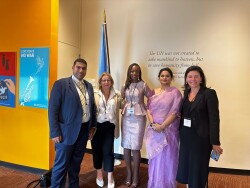 Rachael Kelsey was one of an invited panel at the World Law Congress at the Headquarters of the United Nations and the New York Bar Association on 20 and 21 July.

The Congress was organised by the World Jurist Association (WJA) which was celebrating its 60th anniversary. The Association was set up to provide an open forum where judges, lawyers, law professors and other professionals from around the world could work cooperatively to strengthen and expand the Rule of Law and its institutions through the nations of the world.
For the first time the Congress had a panel on International Child Protection Issues and Rachael spoke along with Andres Conde (Spain), CEO of Save the Children, Maria Juliana Ruiz Sandoval (Colombia), former First Lady of Colombia, and family lawyers from across the globe- Carolina Marin Pedreno (England and Spain), Adelaide Benneh Prempeh (Ghana), Daniela Horvitz (Chile), Sulema Jahangir (England and Pakistan), Lavanya Regunathan Fischer (India) and Pam Sloan (USA).
Rachael presented on parentage in an international context and focused on work that is being undertaken globally to try and address the different concepts of parentage that exist around the world, and the consequences that exist for children and families, when parental status is not recognised in different jurisdictions. Rachael highlighted the work being undertaken by the Hague Conference in Private International Law on parentage and surrogacy and by the European Commission on a proposed Regulation dealing with Parenthood.
You can find out more about the Congress here and about the presentations given by the panel, many of whom are IAFL fellows here.