SKO only Scottish firm in Spears Family Law Index 2021
8th July 2021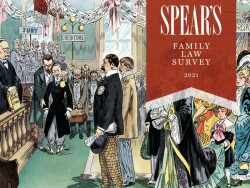 The Spears Family Law Index 2021 has been released today, 'the best family lawyers for high-net-worth individuals in the UK', with SKO continuing to be the only Scottish firm ranked, and five 'top recommended' lawyers.
Spears publishes annual rankings of the top private client advisers and service providers to HNWs. These are drawn up on the basis of peer nominations, client feedback, telephone and face-to-face interviews, data supplied by firms, as well as information gathered by the Spear's editorial and research teams.
The commentary on the named individuals includes:
Rachael Kelsey: "Clients value her warmth, with one reporting 'her enthusiasm, consideration and genuine empathy [were] invaluable.'"
Susan Oswald: "Industry commentators rank her highly, as describing her as 'a director who maintains an excellent reputation for mediation work', adding that 'sources are impressed by her pragmatism, noting that she has "a sensible approach to cases and is very good with clients"'
Robert Gilmour: "A client recently praised him as 'incredibly impressive in his swift grasp of a very complicated situation', adding that he 'always answered questions quickly and clearly, and I always felt I was in sensible yet sensitive hands.'"
Alison Edmondson: "Industry commentators have been full of praise for Edmondson's practice. One described her as 'intellectually strong' and as being someone who 'is admired for her work in novel financial proceedings, particularly those with complex actuarial and tax issues'. She was also commended for being 'very sensible, practical, very constructive and reassuring'."
John West: "'Our clients find themselves in the middle of the difficult situations that life has thrown at them. My aim is to steady the ship and plot a new course to make things better for them,' he says. He achieves this by proving to clients that he is 'a safe pair of hands, understated and trustworthy. I am driven by trying to make things better and resolving disputes in as dignified and low-key a way as possible.'"