Alison Edmondson, Partner
Tel: +44 (0)131 357 1120
Email: alison.edmondson@sko-family.co.uk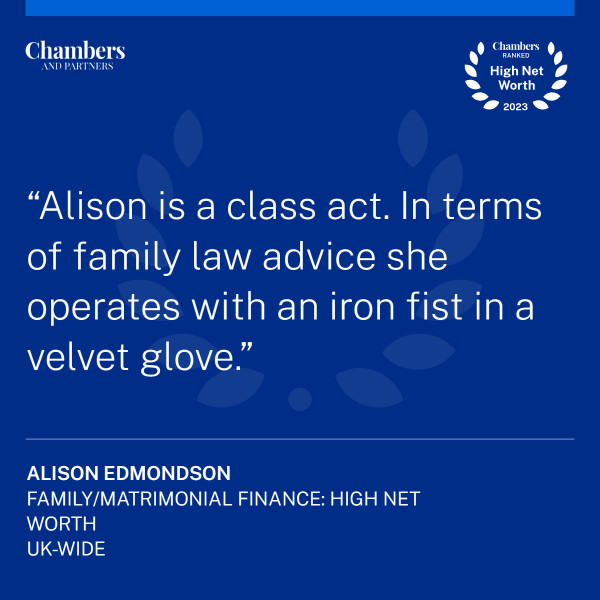 Alison is a Partner of SKO, a Fellow of the International Academy of Family Lawyers and is accredited by the Law Society of Scotland as a Specialist in Family Law and as a Family Mediator. She also holds a postgraduate Certificate in Mediation and Conflict Resolution; is trained as a Collaborative Lawyer and as a Family Law Arbitrator.
The current edition of Chambers and Partners High Net Worth Guide 2023 notes that, "Alison is sensible, wise, pragmatic - yet tough and absolutely prepared to fight when needed. She is the perfect lawyer - empathetic and understanding, but also good at analysing and setting the legals out really clearly and dispassionately."
Alison has been described in Chambers and Partners UK Guide as "intellectually strong" and as being someone who "is admired for her work in novel financial proceedings, particularly those with complex actuarial and tax issues". In the current 2022 Edition of the guide it is noted that, "She is very pragmatic and her attention to detail is phenomenal." "She is incredibly clever but she also works to understand the person involved in the case."
The current edition of the Legal 500 2023 recognises Alison as a 'Leading Individual' in Family Law in Scotland and notes that, "Alison Edmondson is an excellent lawyer, who is extremely experienced and knowledgeable. She is able to grasp difficult issues and adopt a pragmatic approach in order to find mutually acceptable outcomes. She works well and is impressive in the context of not only acrimonious litigated cases, but also collaborative family law cases."
One of only five Scottish Family Lawyers in the Spear's 500 Wealth Management Index 2023, if is noted of Alison that she is, "A skilled negotiator and experienced litigator, Alison Edmondson is a proponent of alternatives to litigation, including mediation, collaborative law and arbitration."
Financial issues arising from separation are Alison's primary focus. She has particular expertise in cases relating to business interests, pensions, taxation and inherited wealth, including in connection with retirement and retirement planning. Her practice also includes family cases with novel issues such as cases where one party has lost capacity, the international protection of vulnerable adults and disputed inheritance claims. Alison is an experienced, and sought after Expert Witness in professional negligence claims against fellow solicitors.
Alison regularly writes and lectures for, amongst others, STEP (Society of Trust and Estate Practitioners), ICAS (Institute of Chartered Accountants of Scotland), SOLAS (Society of Law Accountants in Scotland) and Update (Law Society of Scotland).
Alison is a skilled negotiator and an experienced litigator in both the Court of Session and Sheriff Court as well as being committed to alternatives to the court process, including mediation, collaborative law and arbitration.