Rachael Kelsey, Partner
Tel: +44 (0)131 357 1132
Email: rachael.kelsey@sko-family.co.uk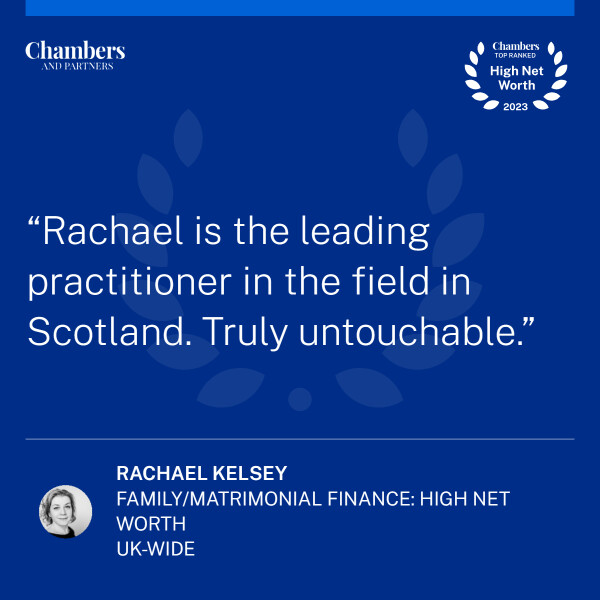 Rachael is a founding Partner of SKO. She remains the only 'Hall of Fame' family lawyer in Scotland in the current Edition of the Legal 500. She is the only Scottish lawyer in band one of Chambers High Net Worth (2023) and was the first Scottish lawyer in the Spears 500 Family Lawyers Guide.
She was the only Family Lawyer shortlisted for Lawyer of the Year Award at the inaugural Legal 500 Scottish Law Awards in 2023, where she was also shortlisted as Private Client Lawyer of the Year.
Rachael was elected President of the International Academy of Family Lawyers (IAFL) in 2023- the first Scot and the only woman from the UK in the thirty-seven year history of the Academy.
Chambers and Partners and The Legal 500 have both described Rachael as, "the doyenne of Scots family law". She was The Times Scottish Lawyer of the Week in July 2020 and is accredited as a Specialist in Family Law and as a Family Mediator by the Law Society of Scotland.
The review of Rachael in the current Edition of the Spear's 500 Wealth Management Index of the best family lawyers in the UK reports, "Likeable, and razor-sharp, few Scottish family lawyers operate at her level. 'She is a phenomenally good lawyer and is widely regarded as Scotland's doyenne of family law,' says one noted peer."
The current 2023 edition of Chambers HNW Guide notes that, "Rachael is just outstanding in every way - you feel such confidence when she is working on your case. She's also kind and insightful and has a great ability to see things from the client's perspective."
The current edition of Chambers quotes a client of Rachael's saying, "I had complete confidence in all aspects of her advice and she provided outstanding support through a challenging period." with the 2022 Edition reporting that "Rachael is a pre-eminent family lawyer with a unique combination of legal brilliance and client care skills." "Her knowledge and technical expertise are phenomenal." "A formidable authority on family law in Scotland.".
The Legal 500 report that "Rachael Kelsey is a superstar and I just don't know how she does everything she does in the hours there are. She is so engaging, very pragmatic and no-nonsense, yet also sensitive and responsive as her clients and the circumstances require."
Rachael has cases in both the Court of Session and the Sheriff Court. She also provides expert opinions on Scots law for courts outwith Scotland. Many of her cases have international or intra-UK jurisdictional issues, an area of specialism for which she is particularly well known and in respect of which she has built up a UK-wide practice. She has a particular interest in the issues that arise when acting for individuals in same-sex relationships.
Rachael is known as someone who is adept at using her considerable knowledge of the law to deliver novel, yet practical, solutions for clients. She is particularly experienced in acting for individuals for whom there are privacy concerns and is used to managing the issues that flow from people's private lives being in the public eye. Rachael has lectured widely- nationally and internationally- on pure family law issues as well as on dispute resolution (DR) generally. She enjoys writing, and talking, about Scots family Law, both for lay-people and other lawyers, and is widely published and regularly appears on the broadcast media.
In 2022 Rachael was re-appointed by the Lord President to the Family Law Committee of the Scottish Civil Justice Council for a third term of office. She participated in the Hague Conference in Private International Law Parentage and Surrogacy Project Experts' Group for 3 years. She is a FLAGS (Family Law Arbitration Group Scotland) Arbitrator and trainer, is the only Scottish Arbitrator on the IFLAS (International Family Law Arbitration Scheme) panel.
Rachael is a past Chair of the Family Law Association; was Chair, a Director and Trustee of Family Mediation Lothian for eight years, until 2017 and was Treasurer of CALM (the organisation of accredited family solicitor mediators in Scotland) for nine years until 2016. She was the co-author in 2020 of the Scottish Chapter of the 'Blue Book'- the most widely read international comparative family law guide) published by Thomson Reuters. In 2016 Rachael was on the Scottish Law Commission Arbitration Advisory Group for the Review of Contract Law: Third Party Rights.