Robert Gilmour, Partner
Tel: +44 (0)131 357 1133
Email: robert.gilmour@sko-family.co.uk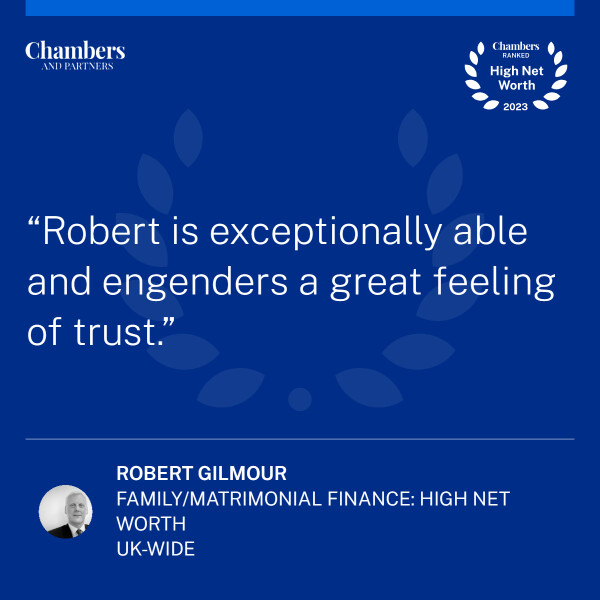 Robert is a Partner of SKO, is recognised as a Leading Individual in Family Law in Scotland by the Legal 500; is one of only four Scottish solicitors named in the current edition of Chambers High Net Worth and is accredited by the Law Society of Scotland as a specialist in Family Law and as a Family Mediator.
Robert leads our surrogacy and assisted reproduction team, is experienced in providing Expert Opinions and is also a FLAGS Family Law Arbitrator.
The current 2023 Edition of Chambers and Partners HNW UK-wide Guide notes that, "Robert is an absolute legal encyclopedia. He's very knowledgeable and thorough."
The current 2023 Edition of Chambers and Partners Family/Matrimonial also recognises Robert's ability, noting "Robert is renowned for his technical knowledge and is particularly helpful with regards to surrogacy matters." with the 2022 Edition having reported that, "Robert Gilmour is an absolute delight to work with and very knowledgeable." and "He provides advice that is sensible, pragmatic and thoughtful."
Robert is further recognised in the Legal 500, where they note, "Robert Gilmour can do his own advocacy too, so he can see a case from start to finish, giving continuity not offered by many others."
The Legal 500 also make reference to Robert's acknowledged expertise in two specific areas: cohabitant/cohabition claims, having acted for the successful applicant in the ground breaking, and widely reported, Supreme Court case of Gow v Grant, and surrogacy and ART (artificial reproductive technology), noting, "Robert Gilmour, meanwhile, has earned a national reputation acting in cohabitant claims and surrogacy issues" and recording feedback that they had received that he is, "The leading expert in Scotland on assisted reproduction."
Robert's work in parentage and surrogacy include advising medical professionals and individuals in relation to Human Fertilisation and Embryology Act matters arising from the HFEA legal parenthood audit in 2014. He has written on and provided commentary to the media on both subjects.
Robert is known as a dedicated, knowledgeable and pragmatic lawyer. There are few other solicitors in firms ranked in Chambers & Partners and The Legal 500 with more advocacy experience than Robert and his intellect, judgment and sensitivity is widely recognised by the judiciary who regularly appoint him as a court reporter and curator ad litem in cases involving children and vulnerable adults. His experience as a litigator includes conduct of proofs, debates and other contentious hearings in the Sheriff Court (Scotland wide).
Robert is a very experienced mediator and has a busy practice both mediating alone and, as one of only two male accredited mediators in Edinburgh, co-mediating in cases where a gender balance is desired by clients. He is one of only four practitioners in Edinburgh (and only man) recognised in the Chambers and Partners ADR Family Law rankings in the 2022 Edition.
Robert's practice covers the full range of family law matters including divorce, dissolution, cohabitation claims, financial provision, residence and contact, specific issue orders and relocation.